Drive sales with our robust broker portal
Provide your business clients with better energy quoting and consulting services using a powerful utility reseller system.




Suitable for multiple home services


Integration with
other systems
Manage your quoting process
Gain competitive advantages in acquiring new B2B customers to your business. The energy broker system is suitable for utility consultants, energy brokers and suppliers to quote utility and home services such as gas, electricity, water. Our solution for utilities offers great functionalities, dashboard administration and effortless customer information management. In the Broker portal users can enter and access client information on energy consumption, invoicing and payments, offers and status.
Monitor your brokers' performance
To drive more sales, users with management assigned roles can create tasks and targets to their agents. Keeping track of commercial activities and agents' results is made possible by allowing the scheduling notifications and alerts in the broker software. Suppliers can fully benefit from our broker product with automatic accumulation of customer information directly into their CRM database, which will help them keep valuable commercial data up-to-date.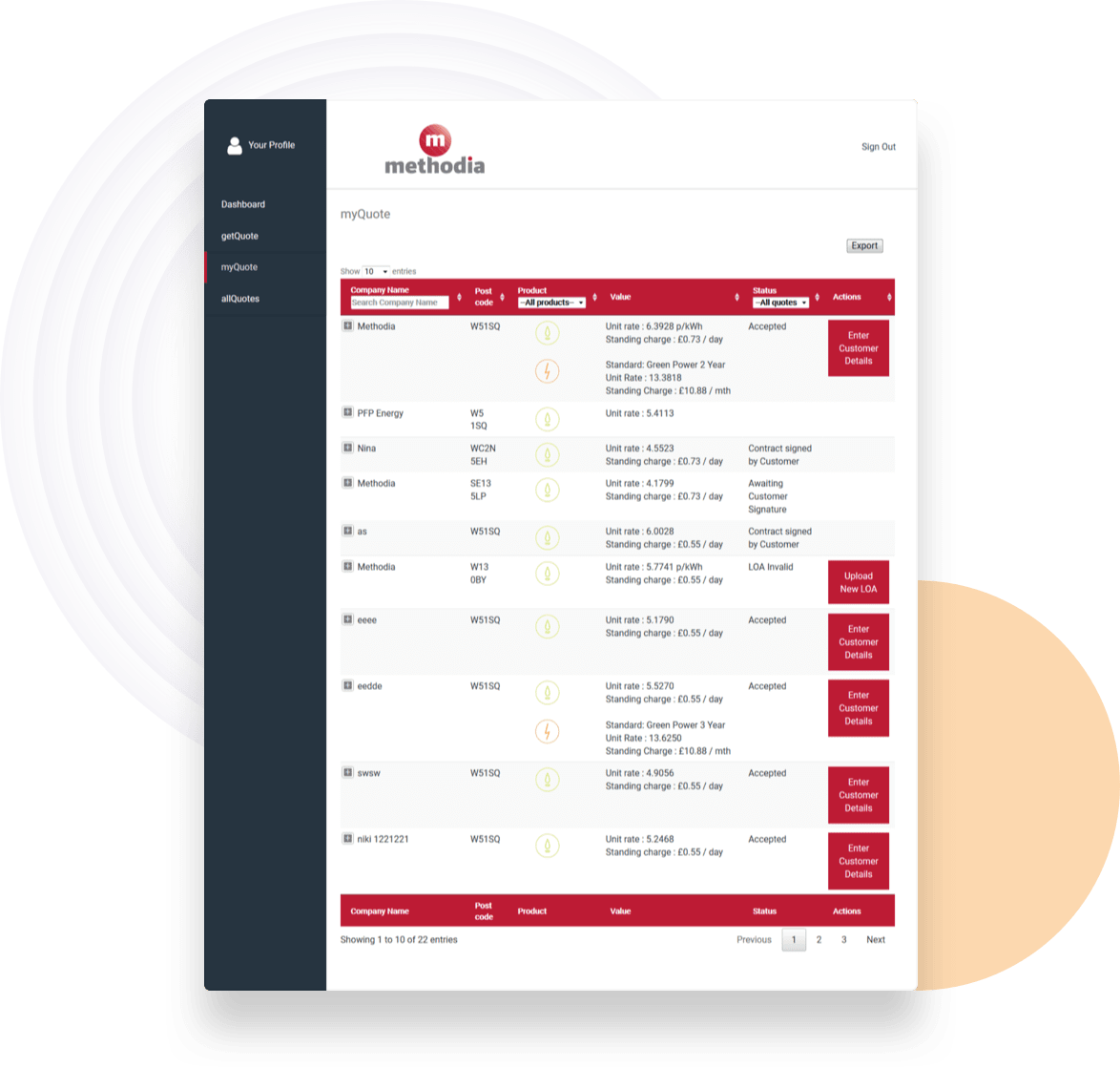 With the aim to create a powerful reseller solution for suppliers and brokers, currently we are in a process of development of some useful sales functionalities such as a sales pipeline for your lead generation management. Generating multiple quotes based on different tariffs criteria for many sites and/or many utility providers will be made convenient for users. To boost sales results suppliers can create and manage their brokers and broker agents' targets.
Attract more business clients
Grow your company in utility B2B sales with a simple yet effective customer acquisition software. Methodia's industry know-how, innovative business management solutions and 10+ years of specialized market experience will help you improve your utility consultancy and customer services.
Increase customer acquisition with a smart broker system
Our affordable reseller solution, designed to fit to any supplier and broker's requirements, offers extensive capabilities to assist you to optimize your quoting workflow and efficiently manage client account information. Attract and engage your B2B customers with a better understanding of their consumption demands using tailor-made functionalities.  
See our other customer-centric products for B2B and B2C management:
Our cutting-edge utility products come with years of industry expertise
With strong industry credentials and the diversity of customers we've had over the years, we leverage our know-how, hands-on experience and solutions to provide significant value for your business.